Fernando Moreno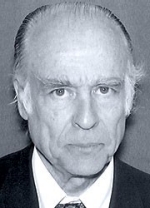 Date and place of birth: 8 May 1936, Curicò, Chile
Appointment to the Academy: 16 December 1999
Scientific discipline: Philosophy and Political Science
Academic title: Professor
Academic awards and distinctions
Sub-director Académico de ILADES (Instituto Latinoamericano de Doctrina y Estudios Sociales). Presidente del ICHEH (Instituto Chileno de Estudios Humanistas). Miembro del Conseil du Tiers Moreda (Becas y Proyects de la Universidad Católica de Louvaina. Miembro del Numero del Instituto de Chile (Correspondiente de la Real Academia de Ciencias Morales y Políticas de España), Miembro del Consejo de la Fundación (educacional) Alcázar (Chile). Hijo Ilustre de la región de Maule (Chile). Hijo Ilustre de la ciudad de Tacna (Perú). Condecoración belga (Rey Balduino). Chevalier de l'Ordre de la Couronne. Miembro del comite de Patronage de l'Opera Omnia de Jacques y Raissa Maritain. Profesor titular en las universidades de Chile y Pontificia Universidad Católica de Chile. Presidente de la sección chilena de la SITA.

Summary of scientific research
Participación como ponente en congresos y seminarios Internacionales, desde 1972 (Chile, Argentina, Ecuador, México, Brasil, Colombia, Venezuela, Perú, Francia, Italia, Bélgica, Suiza, España, Canadá, Taiwan). Professor visitante en España (ISDIBER), Chile (Universidad Católica de Chile) e Italia (Pontificia Universidad de la Santa Cruz). Director del Instituto de Filosofía en la Universidad Gabriela Mistral (Santiago). Director del Magíster en Filosofía Tomista en la Universidad Santo Tomás.

Main publications
Numerosos artículos (desde 1956), en revistas: de Chile; de Argentina; de Perú; de Colombia; de Venezuela; de Uruguay; de Francia; de Bélgica; de Italia; de Polonia. Doce libros como único autor; 14 libros en co-autoría. Como único autor (por ej.): Cristianismo y marxismo en la Teología de la Liberación; incluído como parte del libro de varios autores: Chrislicher Glaube und gesellschaftliche Praxis (Pattloch, 1978); Libertad y desarrollo del hombre (Lima, ed. VE); Iglesia, politica y sociedad (Santiago, ed. Universidad Católica de Chile); De la fe a la ideología (Santiago, ed. Universidad Católica de Chile); Fundamentos de las ciencias sociales (Santiago, ed. Universidad Gabriela Mistral). Como co-autor (por ejemplo): Trinidad y Salvación (ed. Universidad de Navarra, Pamplona); La familia ante los desafíos del Tercer Milenio a la luz de la Evangelium Vitae (Buenos Aires – Luján, 1997); Il pensiero político di Jacques Maritain (ed. Massimo, Milano); Ideologías y totalitarismos (ed. Universitaria, Santiago); International Conference on Demography and the Family (Franciscan Gabe, Pr. Taipei, 1996).
Address
Universidad Gabriela Mistral
Avenida Ricardo Lyon 1177
Providencia (Comuna)
Santiago (Chile)
Related