Andrea Dalledonne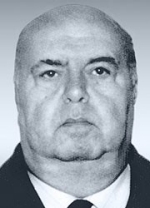 Date and place of birth: 21 December 1939, Rome, Italy
Appointment to the Academy: 25 November 1992
Scientific discipline: Philosophy
Academic title: Associate Professor
Academic awards and distinctions
Premio di operosità scientifica da parte dell'Università di Perugia (1972 circa); Accademico dell'"Istituto di Studi storici Pio IX" (11/02/2000).

Summary of scientific research
Laureato in Lettere nell'Università di Roma (1964) e in Filosofia in quella di Genova (1968), ho tentato di approfondire lo studio e la comprensione del tomismo essenziale alla luce degl'insegnamenti fondamentali di Cornelio Fabro. Ho tentato, altresì, di approfondire la meditazione teoretica sulla radicale alternativa fra tomismo e umanesimo immanentistico.

Main publications
Problematica metafisica del tomismo essenziale, Elia, Roma 1980; Implicazioni del tomismo originario, Quadrivium, Genova 1981; Tomismo contro sovversione. Rileggendo Domenico Giuliotti, Marzorati, Milano 1987; Il rischio della libertà: S. Tommaso – Spinoza, Marzorati, Settimo Milanese 1990; Valenze etico-speculative del realismo metafisico, Marzorati, Settimo Milanese 1993; Il rischio della libertà nel tomismo essenziale di Cornelio Fabro, in Aquinas, 3, 1995, pp. 637-644; La dottrina kierkegaardiana del Singolo come critica cristiana del collettivismo giudaico, in Nuovi studi kierkegaardiani, 1, 1993, pp. 57-74; Recens. a: G. Perini, I Sacramenti. Battesimo, Confermazione, Eucaristia, II, Edizioni Studio Domenicano, Bologna 1999, in Instaurare omnia in Christo, 2, 2000, pp. 8-10; L'anelito alla trascendenza nel "Novecento teologico" di Antimo Negri, in AA.VV., Filosofia in dialogo. Scritti in onore di Antimo Negri, a cura di F. Fanizza e M. Signore, Pellicani, Roma 1998, pp. 189-210; Cornelio Fabro. Essere e libertà come fondamenti del tomismo essenziale, Seam, Roma 2001; Collaborazione con Antimo Negri alla cura della Storia antologica della filosofia del lavoro, voll. 1-2, Marzorati, Milano 1980, e alla cura dell'aggiornamento bibliografico della Grande antologia filosofica, ed. cit., ivi, vol. XXXII (1984); Cenni sul tomismo essenziale implicito nella "Postilla" di Søren Kierkegaard, in AA.VV., Il Singolo. Biblioteca Kierkegaardiana di Filosofia, a cura di G.M. Pizzuti, Lamisco, Potenza 2000, pp. 125-140.
Address
via Sicilia 17/7
06128 Perugia (Italy)
Related