Joseph Augustine Di Noia, O.P.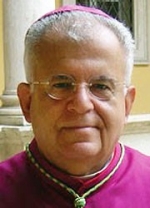 Date and place of birth: 7 July 1943, New York, USA
Appointment to the Academy: 16 December 1999
Priestly ordination: 4 June 1970
Scientific discipline: Theology and Philosophy
Academic title: Professor
Academic awards and distinctions
Yale-Washington Theology Group (founding member); Honors: 1998 S.T.M., Master of Sacred Theology, conferred by the Dominican Order.

Academic background
1961-63 Providence College, Providence; 1966 B.A. (Philosophy), St. Stephen's College, Dover; 1969 M.A. S.T.B., summa cum laude, Dominican House of Studies, Washington, D.C.; 1970 M.A. (Philosophy), St. Stephen's College, Dover; 1971 M.A. S.T.L./S.T.Lr., magna cum laude, Dominican House of Studies, Washington, D.C.; 1980 Ph.D. (Theology), Yale University; 1998 S.T.M., Master of Sacred Theology, conferred by the Dominican Order.

Professional activity
2001-2002, Director, Intercultural Forum, Pope John Paul II Cultural Center, Washington, D.C.; 1993-2001, Executive Director, Secretariat for Doctrine and Pastoral Practices, National Conference of Catholic Bishops, Washington, D.C., U.S.A.; 1991-2002, Professor of Theology (Assistant Professor, 1980-1985; Associate Professor, 1985-91) Dominican House of Studies (Pontifical Faculty of the Immaculate Conception); Adjunct Professor, John Paul II Institute for Marriage and Family Studies, Washington, D.C.; and, 1984-2002, Editor in Chief, The Thomist, Washington, D.C.; 1975-2002, Consultant on Studies, Conference of Dominican Nuns of the Order of Preachers; faculty, Theological Formation for Dominican Nuns; 2002-Present, Undersecretary, Congregation for the Doctrine of the Faith.

Main publications
Books The Diversity of Religions: A Christian Perspective, Washington, D.C.: The Catholic University of America Press, 1992; The Love That Never Ends: A Key to the Catechism of the Catholic Church, joint author, with Gabriel O'Donnell, Romanus Cessario, and Peter John Cameron, Huntington, IN: Our Sunday Visitor Press, 1996; Veritatis Splendor and the Renewal of Moral Theology, joint editor with Romanus Cessario, Princeton, NJ: Scepter Press, 1999. Articles, Essays, Papers 'Women's Ordination: An Analysis of the Controversy?', New Blackfriars 59 (1978), 488-497; 'The Universality of Salvation and the Diversity of Religious Aims', Worldmission (1981-1982), also in: Mission in Dialogue, ed. M. Motte and J. Lang, Maryknoll: Orbis, 1982, 371-391; 'The Doctrines of a Religious Community about Other Religions', Religious Studies 19 (1982-1983), 293-307, reprinted in Religious Pluralism and Truth: Essays on Cross-Cultural Philosophy of Religion, ed. Thomas Dean, Albany: SUNY Press, 1995, 117-132; 'Implicit Faith, General Revelation and the State of Non-Christians', The Thomist 47 (1983), 209-241; 'Authority, Public Dissent and the Nature of Theological Thinking', The Thomist 52 (1988), 185-207; 'Philosophical Theology in the Perspective of Religious Diversity', Theological Studies 49 (1988), 401-416; 'Karl Rahner', in The Modern Theologians: An Introduction to the Christian Theologians of the Twentieth Century, ed. David Ford, Oxford: Basil Blackwell, 1989, vol. 1, 183-204, second edition, 1997,118-33; 'Christian and Modern Ideas of Freedom: Contrast and Convergence', Dominican Monastic Search 7 (Spring, 1989), 32-41; 'American Theology at Century's End: Postmodern, Postconciliar, Post-Thomistic', The Thomist 54 (1990), 499-518, reprinted in 'La Virtù e il Bene dell'Uomo: Il Pensiero Tomista nella Teologia Post-Moderna', ed. Edward Kaczyn´ski & Francesco Compagnoni, Bologna: Edizioni Dehoniane, 1993, 13-30; 'Pluralist Theology of Religions: Pluralistic or Non-Pluralistic?', in Christian Uniqueness Reconsidered, ed. Gavin D'Costa, Maryknoll: Orbis Books, 1990,119-34; 'Varieties of Religious Aims: Beyond Inclusivism, Exclusivism and Pluralism', in Theology and Dialogue, ed. Bruce Marshall, Notre Dame: University of Notre Dame Press, 1991, 247-72; 'Knowing and Naming the Triune God: The Grammar of Trinitarian Confession', in Speaking the Christian God: The Triune God and the Challenge of Feminism, ed. Alvin F. Kimel, Jr., Grand Rapids: Eerdmans, 1992, 162-187; 'Thomas After Thomism: Aquinas and the Future of Theology', in The Future of Thomism, eds. Deal W. Hudson and Dennis Wm. Moran, Notre Dame: University of Notre Dame Press, 1992, 231-245; 'Catholic Dogmatics After Vatican II', in The Church in the Nineties: Its Legacy and Future, ed. Pierre Hegy, Collegeville: Liturgical Press, 1993, 27-31; 'The Church and Dialogue with Other Religions: A Plea for the Recognition of Differences', in A Church for All Peoples, ed. Eugene LaVerdiere, Collegeville: Liturgical Press, 1993, 75-89; 'Dominican Identity and Dominican Priorities', Torchlites 28 (1993),1-5; 'Nature, Grace and Experience: Karl Rahner's Theology of Human Transformation' (invited paper, Karl Rahner Society, Catholic Theological Society of America, annual meeting, June 11-14, 1992), Philosophy and Theology, forthcoming; 'Communion and Magisterium: Teaching Authority and the Culture of Grace' (invited contribution to a special issue on ecclesiology and the culture of management), Modern Theology 9 (1993), 403-418; 'Veritatis Splendor Moral Life as Transfigured Life', in Faith and Challenges to the Family (Proceedings of the 1993 Dallas Workshop for Bishops), ed. Russell E. Smith, Braintree, MA: Pope John XXIII Center, 1994, 251-61; 'Christian Universalism: The Non-Exclusive Particularity of Salvation in Christ', in EITHER/OR: The Gospel or Neopaganism, eds. Carl E. Braaten and Robert Jenson, Grand Rapids: Eerdmans, 1995, 37-48; 'Magisterium: Unity and Substance', in Inhabiting Unity. Theological Perspectives on the Proposed Lutheran-Anglican Concordat, eds. Ephraim Radner & R.R. Reno, Grand Rapids: Eerdmans, 1995, 155-72; 'Jesus and the World Religions', First Things (June/July, 1995), 24-28 (French translation: Pierre d'angle 2 [1996], 21-34); 'The Virtues of the Good Samaritan: Health Care Ethics in the Perspective of a Renewed Moral Theology', Dolentium Hominum 11 (1996), 211-213; 'Joint Declaration between Lutherans and Catholics on the Doctrine of Justification: Some Observations from a Catholic Perspective', Pro Ecclesia 6 (1997), 93-98; 'The Divine Names and the Experience of God', Priests and People 11 (1997), 386-90; 'Transcendence in a Pluralistic Context: A Reply to Ninian Smart', in Religion Without Transcendence?, eds. D.Z. Phillips & Timothy Tessin, St. Martin's Press: New York, 1997, 122-129; 'Blessed Teresa Benedicta of the Cross, O.C.D. (Edith Stein)', Fellowship of Catholic Scholars Quarterly 21 (Winter 1998), 7-9; 'Religion and the Religions', Cambridge Companion to Karl Barth, ed. John Webster, Cambridge University Press, 2000, 243-57; 'Is Jesus Christ the Only Way to Salvation?' in Why are we here? Everyday Questions and the Christian Life, eds. Ronald F. Thiemann and William C. Placher. Trinity Press International: Harrisburg, PA., 1998, 56-68; 'A Gift of God's Spirit of Wisdom: The Official Catholic Response to the Joint Declaration on Justification', Pro Ecclesia 7 (1998), 414-19; 'The Ecclesiology of Communion and Catholic Higher Education', Origins 29 (1999), 268-272; 'The Mission ad Gentes: Why it still Matters', The Priest 56 (October 2000), 21-24; 'The Eucharist and the Trinity', Book of Readings on the Trinity, NCCB Subcommittee on the Third Millennium, Office of Printing and Publishing Services: Washington, DC, 2000; 'World With or Without End? The Consummation of All Things in Christ', The Priest, 57 (April 2001), 8-12 ; 'The Authority of Scripture in Sacramental Theology', Pro Ecclesia 10 (2001), 1-17, with Bernard Mulcahy, O.P.; '"By Whom All Things Were Made": Trinitarian Theology of Creation as the Basis for a Person Friendly Cosmology', Nicene Christianity: The Future for a New Ecumenism, ed. Christopher Seitz, Grand Rapids: Brazos Press, 2001, 63-73; 'The Logic of Doctrine and the Logic of Catechesis: The Relationship between the Catechism of the Catholic Church and the General Directory for Catechesis', The Dunwoodie Review 25 (2002), 79-91; 'Alter Christus, Ipse Christus: una prospettiva tomista', Annales Theologici 17 (2003), 185-196; 'The Church in the Gospel: Catholics and Evangelicals in Conversation', Pro Ecclesia 13 (2004), 58-69; 'Imago Dei, Imago Christi: The Theological Foundations of Christian Humanism', Doctor Communis (2004), 41-52; Nova et Vetera, 2 (2004), 267-77; 'Metodo teologico e magistero della chiesa', PATH (Pontificia Academia Theologica) 3 (2004), 57-68; 'Per un rinnovato impe-gno della missione di Cristo in America: Ecclesia in America 1999', Prendere il Largo con Cristo: Esortazioni e lettere di Giovanni Paolo II, a cura di Graziano Borgonovo e Arturo Cattaneo, Edizioni Cantagalli: Siena, 2005, 115-121; 'L'Eucaristia, mistero che provoca l'adorazione sia della mente che del cuore', Eucaristia e Libertà, a cura di Graziano Borgonovo e Krzysztof Charamsa, Libreria Editrice Vaticana: Vatican City 2006, 94-102; 'Tempo apostolico di grazia', Eucaristia e Libertà, a cura di Graziano Borgonovo e Krzysztof Charamsa, Libreria Editrice Vaticana: Vatican City 2006, 293-96; 'The Practice of Catholic Theology', Blackwell Companion to Catholicism, eds. James J. Buckley and F.C. Bauerschmidt, Blackwell: Cambridge, 2007, 238-250; 'The Ecclesial Vocation of the Theologian in Catholic Higher Education', The Call to Holiness and Communion: Vatican II on the Church, ed. Robert Fastiggi, forthcoming.
Address
Adjunct Secretary
Congregation for the Doctrine of the Faith
00120 Vatican City
Related