Luz García Alonso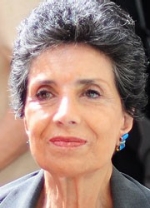 Date and place of birth: 9 January 1938, Mexico, D.F.
Appointment to the Academy: 20 May 2001
Scientific discipline: Philosophy
Academic title: Professor

Academic awards and distinctions
Es académica de Número de la International Academy of Philosophy of Arts (Ginebra) de la que ha sido Secretaria Gene-ral y Presidente de Premiaciones, de la Academia Hispanoamericana de Ciencias, Artes y Letras, correspondiente a la Real Española y de la Academia Mexicana de Doctores en Ciencias Humanas y Sociales, de la que es Secretaria General, de la Pontificia Academia de Santo Tomás de Aquino, y de la Internacional Academy of Philosophy (Erevan, Armenia). Miembro correspondiente de los Artistes-Savants de Grecia. Mujer del año 1990. International Woman of the Year 1992. Es la iniciadora de la Filosofía de la Eficacia, Filosofía Práctica del Orden Técnico.

Academic background
Rectora del Centro Universitario de la Ciudad de México. Vicepresidente de la Sociedad Mexicana de Filosofía. Presidente de la Sección Mexicana de la S.I.T.A. Doctor en Filosofía, Universidad Nacional Autónoma de México 1970. Doctor en Educación, División Internacional de Posgrado, Ateneo Filosófico 1988.

Main publications
La doctrina del amor en Tomás de Aquino (Tesis de Licenciatura) UIA, México, 1965; EI concepto del ser en Tomás de Aquino (Tesis Doctoral) UNAM. México, 1970; Un sistema axiológico comparado con el sistema educativo oficial (Tesis doctoral) México, 1989; Filosofía de las Bellas Artes, ed. Jus, México, 1978; Filosofía de la Eficacia, ed. Jus, México, 1979, 2ª ed. Ucime, México 1992; Aforismos Filosóficos, ed. Prodiac, México, 1980; Etica o Filosofía Moral, ed. Diana, México, 1986, 4ª ed. Diana, México, 1995, 5ª ed., ed. Trillas; EI testamento de Emma Godoy, ed. Jus, México, 1991, 2ª ed. Jus, México, 1992; Repertorio de casos, ed. Alpes, México, 1999; EI hombre: conocimiento y libertad, ed. Esime, 1ª ed., 1992, 2ª ed. Porrúa, México, 2000; Diccionario de Valores – virtudes y vicios, ed. Trillas; La inseguridad y la violencia (Estudio desde la Filosofía de la Eficacia), en prensa; Cinco libros en coautoría publicados en: Barcelona, Pennsylvania, Berna y México.
Address
Centro Universitario de la Ciudad de México
Tula n. 66, Col. Condesa
06140 Mexico, D.F. (Mexico)
Related