Luigi Iammarrone, O.F.M.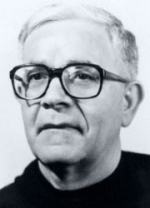 Campolieto, Campobasso, Italy, 19 August 1923 - Rome, Italy, 2 September 2009
Priestly ordination: 28 March 1948
Appointment to the Academy: 19 May 1980.
Scientific discipline: Philosophy and Theology.
Academic title: Doctor of Theology; Diploma in Philosophy
Most important awards, prizes and academies
P. Luigi Iammarrone (O.F.M. Conv.), insegnante di Metafisica, Gnoseologia e Teologia dogmatica – dal 1953 al 1965 – nel Collegio Missionario filosofico-teologico dei Frati Minori Conventuali in Assisi. Insegnante di Teologia trinitaria, Cristologia, Mariologia e Metafisica, dal 1965, nella Pontificia Facoltà Teologica di San Bonaventura al "Seraphicum" di Roma.

Main publications
Oltre a numerosi e importanti articoli di metafisica e di teologia, apparsi nelle Riviste scientifiche Miscellanea Francescana, Divus Thomas (Piacenza) e Renovatio, P. Iammarrone ha pubblicato le seguanti opere: L'unità psicologica in Cristo, Roma 1962, pp. 313; Il valore metafisico delle cinque vie tomistiche, Roma 1970, pp. 290; La Cristologia del Concilio Vaticano II, Roma 1975, pp. 65; Hans Küng eretico, Brescia 1977, pp. 393; La Cristologia di E. Schillebeeck, Genova 1985, pp. 368; Giovanni Duns Scoto metafìsico e teologo, Roma 1999, pp. 857; e in xerotipia, La Cristologia contemporanea, Roma 1976, pp. 359, che ha svolto durante il Corso teologico pastorale per i missionari, presso la Pontificia Università Urbaniana, Roma.