Salvino Biolo, S.J.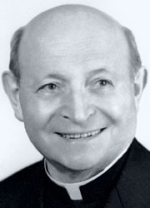 Campolongo Maggiore, Venice, Italy 23 May 1925 - (?) 25 December 2005
Appointment to the Academy: 25 November 1987
Scientific discipline: Philosophy
Academic title: Professor

Lavori di ricerca e di insegnamento
In primo tempo l'antropologia filosofica all'Aloisianum e a Roma, Gregoriana; presto mi fu assegnata la teologia filosofica e quindi la filosofia della religione; ho anche insegnato e fatto ricerche in S. Agostino e in S. Tommaso circa il "De Deo Uno e Trino".

Principali pubblicazioni
L'autocoscienza in S. Agostino: nei Gregorianum 1969 e 2000; la Presenza di Dio in P.V.G.; L'uomo di fronte a Dio, in P.V.G.; diversi articoli, più come Introduzione nei volumi monografici del Centro di Studi filosofici di Gallarate (1981-1998).

Cenni biografici
Il P. Salvino Biolo S.J., proveniente dal Seminario di Padova, fece gli studi filosofici prima nell'allora Facoltà di Filosofia dell'Aloisianum di Gallarate, dove succesivamente fu professore e Rettore. Dopo l'insegnamento di filosofia nel Carissimato, completò gli studi teologici nella Pontificia Università Gregoriana, specializzandosi poi in filosofia. Da molti anni docente della Pontificia Università Gregoriana insegnò antropologia filosofica, filosofia della religione e teologia filosofica nella Facoltà di Filosofia, dove fu anche Decano. Insegnò pure antropologia e teologia filosofica nell'Istituto di Scienze Religiose, dove fu anche Preside. È stato dal 1986 al 1998 Segretario Generale del Centro di studi filosofici di Gallarate, succedendo al Fondatore P. Carlo Giacon S.J. Ora, come professore emerito continua a dare corsi e seminari su Sant'Agostino e B. Lonergan.